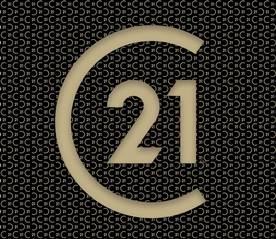 You can count on CENTURY 21 DePiero & Associates, Inc. to help you buy or sell your home fast. As an independently owned CENTURY 21® office, we are part of a network that has reached over $1 trillion in real estate sales over the past 30 years.
CENTURY 21 DePiero & Associates, Inc. was founded in 1979 by Jerry and Roberta DePiero. In 2000 their son, Chris DePiero, became a partner in the business, and then took over complete ownership of the brokerage in 2007. The company continues to lead the way in the State of Ohio among offices in the CENTURY 21® System.
Our sales staff, numbering over 65 qualified active sales associates, serve Cuyahoga and contiguous counties in residential and commercial sales and leasing. Ten percent of our associates are licensed brokers, and 30 percent are consistent award winners at local, state and national levels.
We are licensed by the State of Ohio and members of the Akron Cleveland Association of REALTORS® and well as the Ohio and National Associations of REALTORS®. Our company and associates are committed to adherence to a strict Code of Ethics and continuing education with emphasis on the ever-changing real estate industry, real estate law, civil rights, and equal housing opportunities for all.
We are active in local, state and national real estate activities and associations. Our management, associates and staff are committed to giving back to our community, and are also involved in numerous local civic, school and community organizations.
The support staff is the keystone of any successful brokerage operation, and CENTURY 21 DePiero & Associates, Inc. is backed by the credibility, knowledge and integrity of the CENTURY 21® System, a name that people know, trust, and prefer when they think of real estate.
Our state-of-the-art facility is over 6,000 square feet and includes a complete training center, a professional full-time office administrator, relocation director, and the latest in high-tech computer systems connected with the Northeast Ohio Regional Multiple Listing Services, as well as the Firelands Multiple Listing Service, which serves Northwest Ohio and the Lake Erie Islands.
We offer one-stop full service to buyers and sellers, including mortgage financing assistance, insurance, and home inspections. We also offer short sale assistance to sellers.
Established in 1979

Over 65 qualified, active sales associates

Top Century 21® Office in Northern Ohio 1985-2016

National relocation services, CARTUS® Brokerage Network

Mortgage, insurance and home inspection services

Member, Akron Cleveland Association of REALTORS®

Member, Ohio Association of REALTORS®

Member, National Association of REALTORS®

Member, Northeast Ohio Regional Multiple Listing Service

Member, Firelands Multiple Listing Service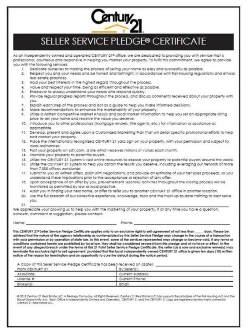 OUR SELLER SERVICE PLEDGE
We are dedicated to providing you with service that is professional, courteous and responsive when entrusted with the marketing of your property. And, we put our commitment to you in writing . . . our SELLER SERVICE PLEDGE™. To fulfill our promise to you, we agree to perform the following services:
1. Provide a marketing plan.
2. Furnish a written Competitive Market Analysis.
3. Review various financing alternatives to assist you in determining those best to enhance marketability of your property.
4. Review local marketing customs, conditions and procedures and make recommendatrions to you to enhance marketability of your property.
5. Have the internationally recognized CENTURY 21 sign installed with your permission, subject to local ordinances.
6. Expose your property to transferees referred to CENTURY 21 DePiero & Associates, Inc. through the CENTURY 21 VIP® Referral System.
7. Provide regular progress reports.
8. Show your property to qualified buyers.
9. Provide a VIP Referral form offering you services of a CENTURY 21 at your new destination.
10. Submit to you all written offers, assist with negotiations, and provide an estimate of net proceeds.
11. Upon acceptance, monitor escrow activities.
Whether you're selling your home for the first time, or you're a real estate veteran, a CENTURY 21 DePiero & Associates, Inc.real estate professional can help you sell your property in a timely and stress-free way.

The Century 21® System has once again swept the JD Powers Awards in 2016 -- for the THIRD YEAR IN A ROW!
The JD Power 2016 Home Buyer/Seller Satisfaction Study measures customer satisfaction across 4 categories: first-time buyers, repeat buyers, first-time sellers and repeat sellers. The Century 21® System was rated highest -- #1 in all 4 segments!
We are proud, inspired and grateful to be a part of a system that promotes customer care as the #1 most important thing that we do everyday, and we strive to do our best to exceed our customers' expectations and inspire them to recommend us to their friends and family.
Read the full article here: http://www.jdpower.com/press-releases/jd-power-2016-home-buyerseller-satisfaction-study
Interested in learning more about a career in real estate? Visit our Careers page for more information.