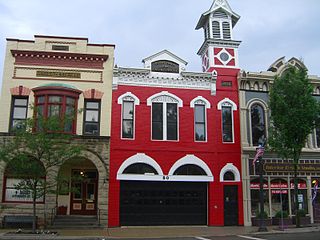 The City of Medina is situated on 12 square miles and is the county seat of Medina County. It's located 40 minutes southwest of Downtown Cleveland, and 35 minutes northwest of Akron. According to the 2010 Census, the city had a total population of 26,678.
Medina's "Public Square" historic district includes nine blocks of stores and draws many visitors for its various festivals and private and public cultural and entertainment events. Learn about Medina's community and schedule of events at Medina County Convention & Visitors Bureau website.
Photo: Nick22aku at English Wikipedia [GFDL (http://www.gnu.org/copyleft/fdl.html), CC-BY-SA-3.0 (http://creativecommons.org/licenses/by-sa/3.0/) or CC BY 2.5 (http://creativecommons.org/licenses/by/2.5)], via Wikimedia Commons
The median home value in Medina is in the $175-200,000 range. Homes range from single family homes with good-sized yards to condos and townhomes . . . both newer homes and historic/century homes. There is housing that suits all residents, from young families to seniors.
The City of Medina offers a wide selection of recreational opportunities and currently has 800 acres developed for park use at 12 different sites. A strong youth sports program utilizes the park fields and the Medina Community Recreation Center through the year. Visit Medina's Park District web page to learn all about the area parks/forests, and get a map of all the city parks
The Medina City School District serves approximately 7,000 Medina area students in one high school, two middle schools and seven elementary schools. Medina High School was ranked 175 out of 29,070 U.S. public schools reviewed earning the district a silver award for 2014-2015.
Javascript is required to view this map.