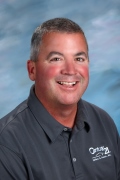 Chris DePiero, multi-million dollar sales associate with CENTURY 21 DePiero & Associates, Inc., has received the CENTURION® Award, the highest level of achievement given to top sales production offices and sales associates in the CENTURY 21® System.
Sales associates achieve CENTURION® status by providing exceptional service, resulting in award-winning production levels. Only 1% of all sales associates in the entire CENTURY 21® International System reach that level of achievement. These elite individuals are committed to quality customer service and take great pride in the position they hold within their communities.
For the 6th consecutive year, Chris was selected from more than 1,300 CENTURY 21® sales associates throughout the Ohio North Region to receive the QUALITY SERVICE AWARD, which is based on nominations received from customers in Quality Service Surveys.
Chris has sold over 500 homes in the past 5 years. He has been ranked as a top agent in the state of Ohio and one of the top in Cuyahoga and Medina Counties. Chris is a 25-time CENTURION® agent and a 5-time GRAND CENTURION® agent . . . the only one ever in Ohio!
Chris wants to help you and your family buy or sell your home.
Call Chris to get your home SOLD! His unique marketing techniques and his many years of experience will help you sell your home for the best price in a short period of time with the least amount of inconvenience to you and your family.
Chris is a lifelong Parma resident who now resides in North Royalton with his wife, Laura. They have 5 children; Nicholas, Jennifer, Melissa, Cory and Sean.
Call Chris any time at 216-870-2161, or email him at topc21ohioagent@aol.com to make your home buying or home selling experience happen.